It might feel familiar to longtime fans.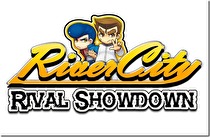 One day after the announcement of a medieval brawler, Natsume and Arc System Works have announced another localization in the Kunio series.
Downtown Nekketsu Monogatari SP, a 2016 release in Japan, will be localized by Natsume this fall as River City: Rival Showdown. A remake of the original NES game, this new release adds a time limit with day/night tracking, countering and new advanced techniques.
River City: Rival Showdown will have a physical release when it launches on 3DS this fall.