It's all about bread and Afro Circuses.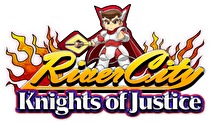 After a rumble in Tokyo, the next River City title for 3DS will kick it old-school.
Natsume announced today that 2014 Japanese eShop title Nekketsu Maho Monogatari will come to the eShop in North America and Europe this summer as River City: Knights of Justice. The River City crew have been transported to ancient times and use traditional RPG weaponry (swords, staves, magic) to save the land of Riverlandia.