Capcom reconfirms their commitment to Switch with their biggest gun.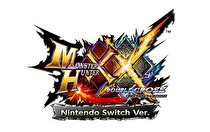 One of Japan's biggest franchises is making the jump to Japan's hottest dedicated gaming device.
Capcom has announced that Monster Hunter XX will be coming to the Nintendo Switch, though no release date has been given. The game has sold over 1.5m copies on 3DS to date according to Media Create, despite launching in Japan the week after the Switch did.
The announcement webpage indicates that more information will be forthcoming at the "Monster Hunter Championships 2017" event in Japan on Saturday.