New characters, new modes and more.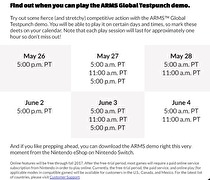 ARMS
As with Splatoon, content including arenas, ARMS and fighters will be added in free updates on an ongoing basis.
New characters were introduced as well: Byte & Barq (police officer and his police dog), Twintelle (a movie star who fires ARMS with her hair) and livestreamer Kid Cobra (masked in the style of a luchador)
New modes include a 2v2 mode, sports-themed modes including basketball with the fighters as the ball and volleyball, a 10-fighter single player Grand Prix mode, "Skillshot" and a 1 v 100 mode as well as the Arm Getter minigame for obtaining new ARMS. There will be 1 on 1 ranked online and fun matches for up to four players each in a lobby that can hold up to 20 players.
The ARMS Global Test Punch will be the weekends of May 27 and June 3, with Friday night events North American time. As with the Splatoon testfires, the Test Punch will be designed to teach players the game and ensure the functionality of the online servers. The app can be downloaded from the eShop right now.
Our Carmine Red has had a chance to play the game and has a hands-on preview showing off the new information.
Splatoon 2
The trailer focused on the single player mode, known as "Hero Mode". Octolings will return, but do not appear to be playable. Marie appears to be helping the player character who will have new weapons sent in for testing by Sheldon.
There will be Splatoon accessories launching with the game as well: a Pro Controller and system case will be available on 21 July for Europe, Australia and Japan with pink and green Joy-Con controllers following in the fall. A system bundle was also announced for Europe and Japan containing Splatoon 2 and a Switch.