Stay tuned after the credits for Splatoon 2 shenanigans.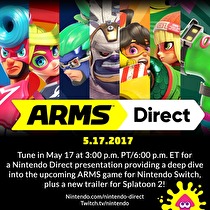 Nintendo Direct returns tomorrow, and it's going to be all about next month's big release.
There will be an ARMS Direct tomorrow at 6pm ET (3pm PT, midnight CEST) featuring the upcoming fighter, and a Splatoon 2 trailer will air as a art of the video.
Unlike the April Nintendo Direct which included multiple other announcements, this one appears to be a two-game exclusive.