Need a second Switch and live in the US? You'll have to get real good real fast.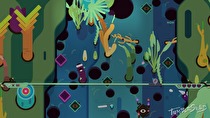 When TumbleSeed launches tomorrow, US players will have a chance to make way more than their money back.
The contest will feature the game's Daily Challenge mode and run from May 9-15. US residents who send a stream archive showing the highest score of the day will win a $500 prize.
Although TumbleSeed normally uses procedurally-generated levels, the Daily Challenges of the contest days will use the same seed for every player to ensure a fair competition.