People are really thirsty for racing as kids/squids.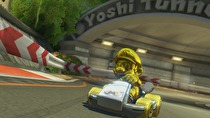 Mario Kart 8 Deluxe is the latest Switch title to break sales records.
According to UK industry tracking, the Switch re-release was the best selling game in the country last week. Although no sales figures were available, it was the first top spot for Nintendo in general in six years (2011's Pokémon White) and the first Mario title to top the chart since 2008 (Mario Kart Wii).
The sales mania is also running wild in the United States, as according to Nintendo nearly half of all Switch owners bought the game on its release day last Friday. The over 450,000 sales (physical + digital) on day one break another record held by Mario Kart Wii, which ended up as the second best selling game on the Wii.