Scope out the full title.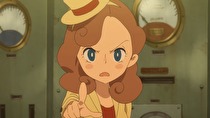 The professor may be retired, but his daughter will pick up the slack for all this fall.
Previously known as "Lady Layton", the sequel will launch in North America and Europe as Layton's Mystery Journey: Katrielle and The Millionaires' Conspiracy. The mobile version will launch worldwide with the release of the 3DS game in Japan on July 20, while the 3DS version will release in the west this fall.
As the initial press release was sent by Level-5, they appear to be handling publishing duties for the title through Level-5 International.