For those who missed the initial release, we may have an opportunity for redemption.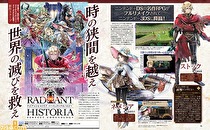 A late, beloved DS RPG is returning to the scene in Japan this June.
Atlus announced Radiant Historia Perfect Chronology in this week's edition of Famitsu magazine. Launching on June 29, the game will be a full remake of the 2011 DS RPG with an additional scenario added as well.
The remake will also include balance changes and full voice acting, including an opening video produced by A-1 Pictures. Further Atlus announcements are expected on an anniversary livestream from Japan on March 26 at 7:00pm JST.