Coming with a 2.0 update.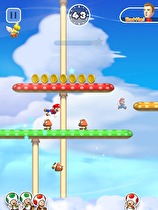 The iOS monopoly on Toad Rally appears to be ending next week.
Nintendo's Japanese-language Twitter account has announced that Super Mario Run will launch on Android next Thursday (March 23) in the Japanese Google Play store.
Android版『SUPER MARIO RUN(スーパーマリオ ラン)』の配信日が3月23日に決まりました。Google Playでは、配信開始を通知でお知らせする事前登録の受付を行っています。ぜひご登録ください。 https://t.co/2DW2TnCK6d pic.twitter.com/W5Xf6IBWmU

— 任天堂株式会社 (@Nintendo) March 18, 2017
Signups for notification are available in local Google Play stores now. The full unlock for the game will cost $9.99 US or equivalent, as is currently the case on iOS.
UPDATE: Nintendo of America has confirmed the Thursday date as well, and the game will update to 2.0.0 at that point for both platforms.
Android version of #SuperMarioRun will be available on 3/23 with the Ver.2.0.0 update! Pre-register now: https://t.co/dAxzTlppnG pic.twitter.com/nQ0T4znOBt

— Nintendo of America (@NintendoAmerica) March 18, 2017