Mania will be getting some additional touches.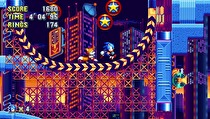 Sega held a panel today at the South by Southwest (SxSW) festival in Austin, TX and provided updates on two upcoming titles.
The 2D retro remake Sonic Mania was announced to be coming out in summer for the Switch, a slight delay from the game's original Spring release. The panel also saw the debut of the Flying Battery Zone, which first debuted in Sonic 3 & Knuckles.
Project Sonic 2017 received its final title as well, and it will launch this year as Sonic Forces. The game follows in the tradition of Sonic Colors and Generations, and more gameplay footage showing Modern Sonic is expected tomorrow.