One anniversary celebration, one brand new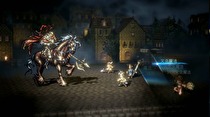 The Switch event featured the announcement of two major JRPG projects.
Atlus announced that the 25th anniversary of Shin Megami Tensei would be celebrated on the Switch with Shin Megami Tensei V. No release date was given, but a video did show many of the series's trademark demons.
A new RPG project was also announced by SquareEnix. Project Octopath Traveler is a new fantasy RPG project that appears to have a new, side view battle system.