Includes European translation and Treehouse Live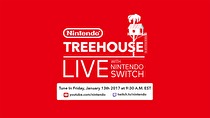 Nintendo has given some clarifying details about what to expect with the Switch reveal event on January 12/13.
For Europe, the conference from Japan will be streamed with an English voiceover, while the other languages supported will received subtitled versions later in the day. A similar stream will be used in North America.
Treehouse Live will also be on the air on January 13, beginning at 9:30 am Eastern time, to show off gameplay for the games revealed in the Switch presentation.