Tower defense, action and strategy - what's next for the robots?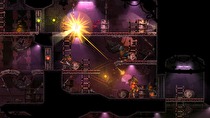 If all goes according to plan, the next SteamWorld series game will launch in 2017.
Image & Form released their latest "Engine Room" update video today, in which it was announced that the next SteamWorld title will release in 2017 as part of the company's 20th anniversary celebration. No platforms were identified, nor the new game's title.
The video is below: