And Miyamoto played with The Roots.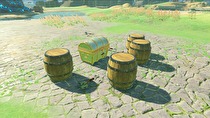 Reggie Fils-Aime and Shigeru Miyamoto helped steal the show last night on The Tonight Show with Jimmy Fallon.
In addition to showing footage of Super Mario Run and announcing demos for the game at Apple stores, Fils-Aime also produced a Nintendo Switch which showed The Legend of Zelda: Breath of the Wild playable.
Shigeru Miyamoto also got to aid The Tonight Show's house band The Roots in a rendition of the Super Mario Bros. athletic theme.