Nikki is back, and there was much rejoicing.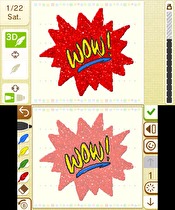 Three years after Swapnote's online sharing was disabled, Nintendo is returning to friends-based messaging on the 3DS.
Swapdoodle will launch today with the eShop update in both North America and Europe. In addition to basic messaging among 3DS friends, the game allows for doodles based on Nintendo characters and has stickers of Mii faces, among others. Private messaging functions are also available.
The application will be free with in-game purchase options.