A big name from the days of the Mega Drive is coming back home.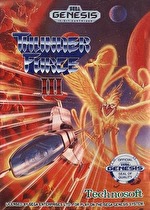 Sega has acquired the rights to the games from one of the Mega Drive's biggest boosters.
During a stage show at the Tokyo Game Show, Sega announced that they have purchased the rights to games developed by Technosoft. Technosoft is known for the Thunder Force series of space shooters, as well as the early real-time strategy series Herzog Zwei.
The first product of the deal will be a 3D Classics version of Thunder Force III, set to release with the third retail collection of Sega 3D Classics in Japan.