Discounts, exclusives, and more.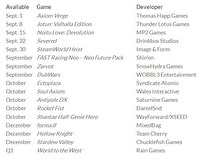 The summer might be ending, but indie developers will keep the summer jams flowing on Nintendo consoles.
Nintendo announced the "#Nindies Summer Jam" today, with a major eShop game releasing every week on either Wii U or 3DS. The developers will also show behind-the-scenes video and show their favorite games available on Nintendo systems, and their games will be offered for 10% off during the launch week.
The involved games:
Axiom Verge (September 1, previously announced)
Jotun: Valhalla Edition (September 8)
Noitu Love: Devolution (September 15)
Severed (September 22 - Wii U version)
Azure Striker Gunvolt 2 (September 29)
A new sizzle reel showing a large group of indie releases through the first quarter of next year has also appeared on Nintendo's Youtube channel. Notable releases include Nindies @ Home games forma.8 (December) and Soul Axiom (October).