One brand new, three we knew about from Japan.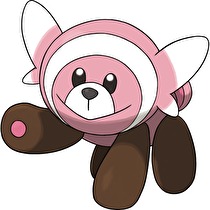 The latest Pokémon Sun and Moon trailer was released today to coincide with the opening of the 2016 World Pokémon Championships, and revealed a brand new Pokémon and three localizations.
Crabrawler is a never-before seen Pokémon and as the name suggests, it is a Fighting-typed crab. Its abilities are Hyper Cutter or Iron Fist.
Sandygast and its evolved form Palossand are the Ghost/Ground sand Pokémon revealed in this month's CoroCoro. The two Pokémon share the ability Water Compaction that sharply raises their Defense when hit by a Water-type attack.
Stufful is the prior evolution of Bewear, and shares the larger bear's Normal/Fighting types and Fluffy/Klutz abilities. It also has a tag on its back for some reason.