Based on history, it'll blow up in China.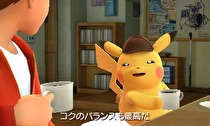 The success of Pokémon Go has spurred the signing of a live action Pokémon movie franchise, and the first result will be a hardboiled noir.
Legendary Pictures has reached an agreement to develop a live action film based on the Great Detective Pikachu eShop game. No voice or acting talent have been attached to the project, which is expected to enter development next year, but based on the Warcraft movie it will likely involve a combination of actors and computer generated Pokémon.
Legendary's last video game adaptation into a movie was this year's Warcraft movie, which only made approximately US$48m on a $160m budget but ended up with a worldwide gross of $433m due to being one of the ten biggest grossing movies of all time in China.