The Wii digital software library continues to grow in Japan.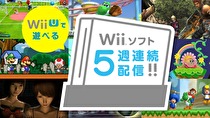 Ten more Wii titles are coming to the Wii U eShop over a five week period starting on July 27 in Japan. For My Nintendo account holders, Nintendo is offering 30 percent off of these games through coupons they will be sending out to email addresses associated with accounts. These coupons will start arriving closer to the release of the games. Members can take advantage of the discount for two weeks following the release of each title. With the discount, users will be paying 1,890 yen, 810 yen off of the standard price of 2,700 yen, for each game. The full list of titles and release dates are below. Currently, this is limited to Japan.
Week One - from July 27
Xenoblade Chronicles
Rhythm Heaven Fever
Week Two - from August 3
Super Paper Mario
Project Zero 2: Wii Edition
Week Three - from August 9
Kirby's Epic Yarn
New Super Mario Bros. Wii
Week Four - from August 17
Mario Strikers Charged
Mario Super Sluggers
Week Five - from August 24
Wario Land: Shake It!
Mario Sports Mix