Magneton, how do they work?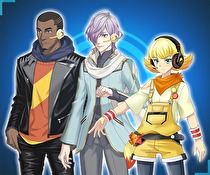 The most recent edition of CoroCoro Magazine has confirmed some additional details, including some fan favorite Pokémon appearing as assists.
The new assist pairs include the Colosseum pair of Espeon and Umbreon, the grounded duo of Cubone and Diglett, and the bombers Magneton and Quagsire. Their battle effects include healing and lowering the enemy's Resonance (special) gauge, a air-and-land attack combo and a combination attack.
Character customization was also announced, including hair and skin color in addition to customizing clothing in the game's My Town mode.