Round one features experience, gold and a trip to the beach.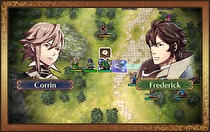 Nintendo has outlined the content of Map Pack 1 for Fire Emblem Fates, and some of the content may be familiar to those who went all in on Awakening's DLC.
The first map will be available for free on the game's launch day (February 19), with the remaining maps releasing on Thursdays with the eShop update. The pricing was also announced for the individual maps as well as the price for the Canadian pass (C$22.49). Individual maps are US $2.49/C$3.19 unless otherwise indicated.
The map release dates and pricing are:
February 19 "Before Awakening" - Free - Fire Emblem Awakening crossover map
February 25 "Boo Camp" - Experience grinding and Beach Brawl - Beach themed map
March 3 "Ghostly Gold" - Gold grinding and Museum Melee - Weapon drops
March 17 "Royal Royale" - One on one battles with the royal family
March 24 "Hidden Truths" - $4.49/$5.69 - Two map prologue
March 31 "Vanguard Dawn" - $1.99/$2.49 - A trial map set in the world of Fire Emblem: Radiant Dawn
April 7 "Anna on the Run" - $1.99/$2.49 - Anna is assaulted by brigands, victory means recruitment
April 14 "Ballistician Blitz" - $1.99/$2.49 - A trial map set in the world of the original Fire Emblem + a free gift from Anna (one time use)
April 21 "Witches' Trial" - $1.99/$2.49 - A trial map set in the world of Fire Emblem Gaiden