A fitting climax to a year of insane additions.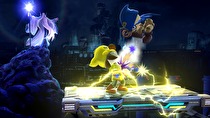 Nintendo showed the final Super Smash Bros video presentation today, with multiple new content announcements for the forseeable feature.
Characters
Cloud will be available later today, and was the most demanded Final Fantasy character. He'll feature costumes from the original Final Fantasy 7 and the Advent Children movie. Like Little Mac, Cloud will build his limit gauge through contact or by using his down-B. Charging the limit break will allow for powered up special moves.
Corrin (Fire Emblem Fates) led off the video by choosing to Smash. A more agile Fire Emblem Swordsman, they wields a chainsaw sword called the Omega Yato, and transforms into a dragon during battles with his Dragon Fang abilities. Much like Robin, Corrin will have both male and female alt costumes. Corrin was brought in following discussions about the new title. Corrin releases in February.
Bayonetta will get wicked in (date) as the final character. She uses multiple guns and has her familiar Umbran Witch attacks, which may explain why the video was rated RP-T. Bayonetta was the #1 character on the ballot worldwide (among characters "negotiable and realizable"), top 5 in the US and 1st overall in Europe. A color variant for Jeanne will be selectable. Bayonetta is expected to launch in February 2016.
Stages
Corrin will not bring a stage along, but two new songs will be added with their download that will go into the existing Fire Emblem Stages.
Midgar will have Summon Materia that players can collect to morph the terrain; Ifrit lights it on fire, Ramuh shocks the floating platforms, Odin cuts the stage in half and KOs anyone who is hit by the blade, Leviathan floods the stage, and Bahamut Zero fires a massive area-of-effect flare attack. The materia wielder will get credit for every KO resulting from the summon.
Umbra Clock Tower is a recreation of the first level of the original Bayonetta, which is a falling platform that has other platforms and angels falling all around it.
Updates
Corrin will bring two trophies for the 3DS version. Cereza, Rodin and Jeanne will come with a purchase of Bayonetta.
amiibo
Ryu, Roy and Famicom ROB will launch on March 18, 2016 in North America.
The three new characters will have Amiibo, but no date was given for them.
Mii Costumes
The Chocobo Hat will be available along with a Geno costume later today.
Also along in February 2016: Bionic Armor, Takamaru, Ashley, The Tower of Druaga's Gil, Tails, Knuckles. QR codes are available for existing Mii costumes to create lookalikes, such as the Inklings.
Pricing
Corrin: $4.99 US / $6.29 C / €4.99 /£4.49 1 version, $5.99 / / $7.49 / €5.99 / £5.39for both.
Cloud and Bayonetta: $5.99 / $7.49 / €5.99 / £5.39 1 version, $6.99 / $8.79 / €6.99 / £6.29 for both.
Mii costumes: $0.75 / /$0.99 / €0.79 / £0.69 for 1, $1.15 / $1.49 / €1.19 / £1.09 for both