After defeating the likes of Ifrit, Bahamut, and series newbie Amateratsu, players can summon them in battle.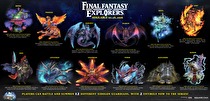 Get ready to fight to Bahamut and Shiva in Final Fantasy Explorers and then, when they're defeated, have them join your party as powerful summons. In total, 12 summons, or "eidolon guardians," are featured in the game, including two (Amateratsu and Dryad) that are brand new to the series. See below for the full list:
Alexander
Amateratsu
Bahamut
Diablos
Dryad
Fenrir
Ifrit
Leviathan
Odin
Phoenix
Ramuh
Shiva
Final Fantasy Explorers, set to come to 3DS on January 26, is a Monster Hunter-esque RPG where players can ride solo or with up to three other players to fight all sorts of series enemies, including the various eidolons.