Pink pieces are like full size candy bars; rare but much appreciated.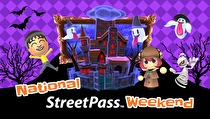 Nintendo is throwing a spooky surprise in for those who visit Nintendo Zones this weekend.
Much like last year's Hallowe'en event, there will be a National StreetPass weekend this weekend in North America. As usual, Nintendo Zones across the continent will be configured to give visitors six StreetPass tags from across the continent in rapid succession.
Although probably coincidental, the scramble should give 3DS owners a chance to complete the recently released Yo-Kai Watch puzzle.