Does not resolve odd level-breaking glitch.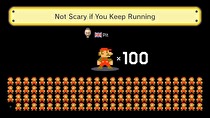 UPDATE: NWR staff have been able to recreate the glitch in 1.10. Original story follows.
Super Mario Maker has received a full point version update, and reports are it resolves a potential level-breaking glitch.
The v1.10 patch's official notes are "Adjustments have been made to make for a more present gaming experience", and the patch requires 223MB.
Although not confirmed officially, reports from social media indicate the patch may have resolved a particular glitch that can render Mario invincible for the rest of a course. It involved stepping on spikes while equipped with a Fire Flower or other post-Mushroom power-up, then entering a door near the end of the invincibility period to be made invincible for the rest of the stage. (A test level for this can be found with code 9301-0000-004C-26E6.)