Both North America and PAL regions popularity losers come back in a massive way.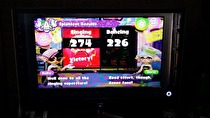 Results from the weekend's Splatfest action in Splatoon:
Singing 274, Dancing 226 46-54, 57-43 At the Kelp Dome, the European Splatfest hit a high note for the scoring post 2.0 update. Although Dancing won the popularity poll by eight, Singing winning the battles by 14 points accounted for the winning margin. The previous high was 273-227 in Japan's Grasshopper v Ant event.
Decepticons 266, Autobots 234 42-58, 56-44 At The Allspark of Flounder Heights, the punters prediction that the Autobot crowd would skew younger and less experienced was proven correct, as the Decepticons took advantage of the Autobots being worn out by civil wars to take the battles by 12 points.
With the results, Callie is now 8-4 in Splatfest competition (2-2 in North America, 3-1 in Japan and PAL regions).