And also announces one of today's Wii U downloads is crossing to the New 3DS.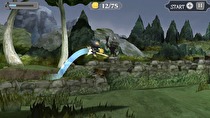 A recent appearance by two Nintendo develppers at the 2015 Unity Europe conference has given some details on the use of Unity on the 3DS, including a game announcement.
Irena Cranston from Nintendo of America and Ed Valiente from Nintendo Europe, two of Nintendo's Unity specialists spoke at the conference and discussed how to make Unity work on 3DS and particularly the New 3DS. They confirmed that current 3DS developers will receive free Unity licenses, similar to the distribution on the Wii U, and the program is in beta with more titles releasing to take advantage of it by the end of the year.
During the video, it was also announced that Unity Games were in the process of porting titles to the New 3DS, specifically calling out today's Wii U eShop release Wind-Up Knight 2 as heading to the New 3DS.
The full video can be found below: