Could there finally be a use for that Pikachu Amiibo?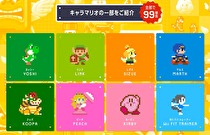 The Japanese website for Super Mario Maker has updated with a bunch of new information about the titles.
The main feature is the "Costume Mario" that shows off several of Mario's transformations including Peach, Bowser, Yoshi, Kirby and Isabelle from Animal Crossing. A separate update to the Amiibo page shows that all Amiibo - including the Pokemon ones, which were previously restricted to Smash Bros and minor updates - will be usable, but all of the costumes will be unlockable through the game's 100 Mario Challenge mode.
The game will also support the Pro Controller, Classic Controller and Wii Remote for playing of levels, and the save file will allow for the saving of 120 levels.