If you need speed and collisions, there's nobody better than Criterion.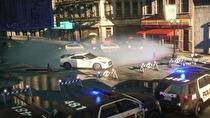 According to Nintendo Life plans were in the works to have a F-Zero vertical slice at the Wii U's reveal, developed by Criterion.
Per an anonymous source, Nintendo of Europe approached Criterion, makers of the Burnout series and 2013's Need for Speed Most Wanted U to prepare a playable teaser of the game for E3 2011. Criterion had to decline due to time, according to former studio head Alex Ward.
The timeline would have Criterion working on Need for Speed Most Wanted and possibly helping out with 2011's Need for Speed: The Run.