Gamers in Japan can get down with the good doctor in the latest entry in the series.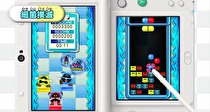 A new Dr. Mario title is available now on the Nintendo 3DS in Japan for 880 yen. Titled Dr. Mario Gyakuten! Tokkōyaku & Saikin Bokumetsu, the game features a traditional Dr. Mario mode, a Dr. Luigi Mode and a touch screen version of the game called Saikin Bokumetsu (Virus Eradication). Both Dr. Mario and Dr. Luigi feature special pills that help with the elimination of the on screen viruses. Once a gauge fills up on the right hand side of the screen, players are able to use these special pills. They can do things such as eliminate the same color viruses on the screen, get rid of a column of pills or viruses and more. This new feature is optional and can be turned off at any time.
This new entry in the Dr. Mario series features online play, local play as well as download play modes. There is currently no word on a release outside of Japan. You can check out a preview video of the game below.