Heavy on the details, light on the dates.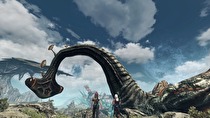 The Xenoblade Chronicles X video and stream had plenty of gameplay detail, but the only release date committed to was still 2015.
The video showed off the opening of the game with your ship known as The White Whale crashing into a planet, and showed the game's five known continents. Enemies will appear live in a fashion similar to Xenoblade, and options such as a NavBall will direct you to the many quests. The mechs known as "Dolls" in Japan have a working name of "Skells", but the Treehouse confirmed the names are still being worked out.
Treehouse's stream included three combat areas; two in open areas and one using the Skell in combat. Skell customization was also shown, as well as the insurance system which allows for the mech to be replaced twice before it is lost forever.
More videos were promised for the weeks and months ahead. The video had some English text, but the majority of the text and all of the dialogue was still in Japanese.