Pokemon #150 will be entering the fray, as well as the protagonist of Mother 3 and a brand new update for Miis!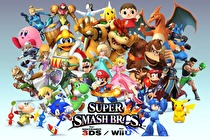 In today's Nintendo Direct, Satoru Iwata announced that Mewtwo will be coming in April, and Lucas from Mother 3 will be arriving in June as a playable character.
Mewtwo will arrive on April 15 for Club Nintendo members, and April 28 for everyone else. Mewtwo will retail for $3.99 for individual versions, or $4.99 for both. Lucas will be released in June.
In addition, costumes for Miis will be added in another DLC package. Costumes include Smash Bros. t-shirt, cat suit, Link Outfit, and costumes inspired by Mega Man and Xenoblade.
Furthermore, an update coming soon will also include downloadable content, character balancing, and more sharing functionality.