NIS America is bringing over the air-focused action game from Yuji Naka's Prope studio. UPDATE: Wii version might be coming, too.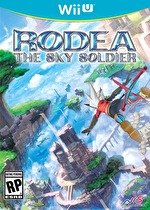 UPDATE: According to a NIS America representative, the company wants to include the Wii version as a pack-in with the Wii U version (like the Japanese version), but cannot confirm right now. The original story is presented below:
Rodea the Sky Soldier, set for release in April in Japan, is making the flight to North America and Europe thanks to NIS America. Revealed at a press event, the game, from developer Prope, will be coming to Wii U and 3DS this fall.
First announced in 2010, Rodea the Sky Soldier is a game where you control the titular character through the air using touch screen or motion controls. The gameplay has received comparisons to developer Yuji Naka's past work on the Nights and Sonic series. Naka's studio, Prope, has previously worked on Let's Tap, Ivy the Kiwi?, and the Monster Manor StreetPass Plaza game.
Rodea the Sky Soldier is coming to Japan on April 2, with the Wii version, which has been finished since 2011, being bundled in with the first print of the Wii U version. It's unknown right now how the Wii version will be distributed in North America or Europe.