Sales figures spark more insight into the near future of Wii U.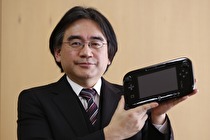 Nintendo President Satoru Iwata recently discussed Wii U's future with Japanese website Sankei, saying the console's life is "not over yet," in the English translation.
Speaking with Sankei, he stated that more unannounced Wii U titles are due out from Nintendo in 2015. This comes after the announcement of the company's Q3 sales figures, which saw a rise in Wii U units sold, but a decline in 3DS sales.
An educated guess would indicate that there will be announcements for some of these games at E3 this June, following previous years' "surprise" announcements.