Along with the return of an old favorite.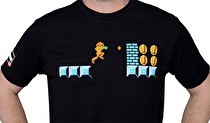 Two new rewards have been added to Club Nintendo in North America. First, there is a new Nintendo 3DS Game Card Case featuring covers based on Pikmin and Super Mario Bros. available for 400 coins. The second new reward is a NES Remix 2 T-shirt that costs 700 coins and is available in limited quantities.
In addition to these new rewards, the popular Legend of Zelda Nintendo 3DS Game Card Case has returned and costs 400 coins.