Captain Toad, Fire Emblem and more await you this week!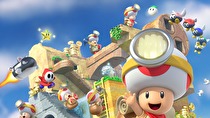 The big releases are winding down as the holiday season continues, but this week we still have a big release here on the Download. Captain Toad: Treasure Tracker is now out! How will you help Toad and Toadette travel through various worlds in search of stars? Beyond Captain Toad, we also have Lode Runner and Fire Emblem make their appearance on the Wii U Virtual Console. Will you wield your axe once more or are you just down for some 8-bit fun? Although the options this week for download are sparse, there's always something fun to find if you look hard enough!
Wii U Downloads
Captian Toad: Treasure Tracker
Wii U Virtual Console
Nintendo 3DS Software
Disney Violetta Rythym & Music
Sales
In celebration of Walt Disney's birthday, several Disney games are on sale on both the Wii U and 3DS eShops, including Disney Epic Mickey 2: The Power of Two on Wii U and Disney Planes on 3DS and Wii U
99 Seconds is $1.49 through December 26. (3DS)
Etrian Odyssey IV: Legends of the Titan is $14.99 starting on December 8 and ending on December 22.
Shin Megami Tensei: Devil Summoner: Soul Hackers is $14.99 starting on December 8 and ending on December 22. (3DS)
AeternoBlade is $7.99 starting on December 5 through December 19. (3DS)
AiRace Xeno is $1.69 through December 25. (3DS)
Demos
Sonic Boom: Rise of Lyric