Like it or not, you'll have to visit specific stores if you want them all.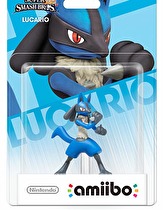 While the bulk of Nintendo's lineup of NFC figurines will be available across a number of different retail outlets, some are exclusive to particular stores.
So far, in North America, we know that the Shulk amiibo will be exclusive to GameStop, Meta Knight will only be found at Best Buy, you'll have to take a trip to Toys 'R Us if you want to pick up Lucario, and Rosalina and Luma will only be available at Target.
This probably won't be the end of retailer-exclusive amiibo, so stay tuned to Nintendo World Report for updates on which other figures will be tied to specific retailers in the weeks and months to come.
In the meantime, check out our comprehensive amiibo guide.