The Twilight Princess takes her true form on the battlefield.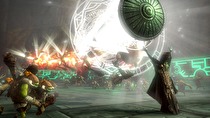 Twili Midna will be a playable character in the upcoming Twilight Princess DLC Pack for Hyrule Warriors according to a recent Miiverse post.
While Midna in her most notable form already appears in Hyrule Warriors, this human form of Midna will be a totally new character that uses the Mirror of Twilight as her weapon. More costumes and weapons, and a whole new Adventure Mode map will also be included with the DLC when it comes out later this month.
The Twilight Princess DLC pack will be available worldwide for $7.99 on November 27.