You can dress your Mii racer as Kirby, Fox, or Samus. Wild!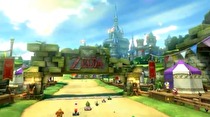 Mario Kart 8's first DLC pack, which contains new courses, tracks and karts, is set to release on November 13. On that same day, Mario Kart 8 will be updated to make use of Amiibo as well.
This update allows players to use select Amiibo figures (in stores November 21) to give Miis character costumes when they race. So far, the usable figures include Mario, Luigi, Yoshi, Peach, DK, Link, Kirby, Captain Falcon, Samus and Fox McCloud. It is not known if Amiibo Wave 2 figures will work with the game.
The DLC adds three new characters in the roles of Link, Cat Peach, and Tanooki Mario. It also adds eight new tracks and four new karts, including a kart inspired by F-Zero and tracks inspired by Excitebike and The Legend of Zelda.