The Wii U version will now be released one week earlier.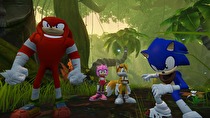 Sonic Boom: Rise of Lyric for Wii U has been slotted for November 11, as reported by the official Sonic the Hedgehog Twitter.
There was no reason given for the early launch, but speculation seems to be that the announcement of Grand Theft Auto V on PlayStation 4 and Xbox One, which was recently also given the 11/18 release date, might have spurred Sonic Boom's new date.
Sonic Boom: Shattered Crystal, the 3DS counterpart of Sonic Boom for Wii U, is also scheduled for a November 11 release. Europe will have both games on November 21, and Japan will receive the games on December 18.