As part of a bonus for Final Fantasy Explorers, Japanese players can check out the first Final Fantasy in stereoscopic 3D.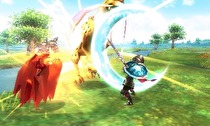 The original Final Fantasy game is coming to 3DS in an enhanced form alongside the December release of Final Fantasy Explorers in Japan.
Retail copies of Explorers will include a download code for this retro bonus, which will be sold on the eShop a month after the release. The version of Final Fantasy seems to resemble the recent PSP remake, with cleaner-looking graphics. The 3DS version will also display in 3D, likely in a similar way as Nintendo's own 3D Classics.
Additionally, a prologue demo is set to come out in Japan before Explorer's release. This demo supports multiplayer and online play.
Final Fantasy Explorers, which could likely best be summed up as a Final Fantasy take on Monster Hunter, is set to come out on December 18 in Japan. No word yet on a worldwide release.