Players with early copies of the Japanese version have unlocked quite a few characters.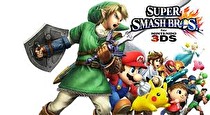 The Super Smash Bros. roster is nearing total confirmation as players who were able to get early copies of the Japanese version of Super Smash Bros. on 3DS have unlocked a number of characters, including Duck Hunt Dog, Bowser Jr., and Dark Pit, confirming the leak from a few weeks ago.
The Duck Hunt Dog teams up with a duck from Duck Hunt and has attacks that call to mind NES Zapper games. Bowser Jr.'s alternate costumes are all of the Koopalings, to the point that they feature different voices. His Final Smash references Super Mario Sunshine by summoning the imposter Mario villain from that game. Dark Pit appears to be a pretty cut-and-dry clone of Pit.
In addition to those newcomers, a variety of veterans were confirmed as well, including Ness, Falco, Wario, Mr. Game & Watch, Jigglypuff, Dr. Mario., and R.O.B. the robot.
Also, several characters have significant evidence that they aren't returning at all. Wolf, playable in Super Smash Bros. Brawl, has a trophy in the game that doesn't allude to him being a playable fighter. Also, a Polar Bear trophy from Ice Climbers is categorized as "Other," instead of being categorized as Ice Climbers, pointing towards the pair that have been in both Melee and Brawl as not being in the new game. Additionally, it seems very unlikely that Snake, Lucas, and Mewtwo are playable, as well.
As of this writing, it seems that all characters have been unlocked in Super Smash Bros. for 3DS. However, if anything does come up, we'll report it here.