Ultimate NES Remix will feature online leaderboards and much more.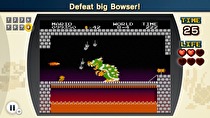 Ultimate NES Remix, a new entry in the Wii U series NES Remix, is coming to 3DS in North America on December 5 and Europe on November 7. Additionally, the NES Remix Pack on Wii U is coming out the same day in North America.
The 3DS game, which will cost $29.99, will contain "quick-fire" challenges from 16 different NES games and include online leaderboards as well as a Championship Mode. Ultimate NES Remix is coming to both the eShop and retail stores.
The NES Remix Pack includes NES Remix 1 and 2 for $29.99, which is the price of both games if you were to buy them on the eShop separately.