New 3DS and 3DS LL models are coming to Japan in October.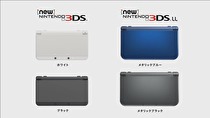 Nintendo has announced two new 3DS models are coming to Japan this October.
Today's Nintendo Direct in Japan detailed the new models, New 3DS and New 3DS LL. Both models contain faster CPU's, quicker download speeds and colorful face buttons akin to the Super Famicom. Hardware wise, the models also contain Amiibo support, better 3D viewing, a new button that helps control camera movement (similar to the C-stick found in previous console controllers), added ZR and ZL buttons (leading the cartridge slot to be moved to the front of the console), better battery life, and is also a bit lighter to boot.
New Nintendo 3DS will exclusively have changeable top and bottom plates, with various styles shown in the Direct. Many variations seem to be packaged for retail, but that is not confirmed.
MicroSD support has also been added.
New Nintendo 3DS comes in white and black, while the New 3DS LL comes in Metallic Blue and Metallic Black. Both models are scheduled for release in Japan on October 10 for 16,000 ($150) and 18,800 yen ($180), respectively. The models will be available in the United States and Europe in 2015.