The Toki Tori developer will deliver this new 2D shooter/platformer to "all current consoles."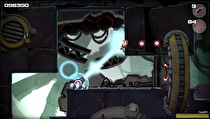 Developer Two Tribes has a announced its latest project, a 2D shooter/platformer titled Rive. The game is planned for an early 2015 release on PC and "all current consoles."
It's not confirmed to be coming to Wii U, though Two Tribes noted in a tweet that an eShop release on the platform is a "definite possibility." A 3DS version is not in the cards, though. The developer said the handheld "can't handle" the game.
Two Tribes is pitching Rive as a "metal wrecking, robot hacking shooter" with "old school gaming values in a decidedly new school execution." Gameplay will consist of a mix of platforming and 360 degree shooting action, and players can affect the behavior of enemy robots through collecting and uploading "hacks."
The game is being developed by a three-man core team using the Toki Tori 2+ engine. This will be Two Tribes' first release as a development studio since the company's "reboot," which ushered out the old Two Tribes B.V. development team. Tribes Publishing B.V. remains as the parent company, along with the two original founders. Two Tribes' most recent publishing output has revolved around porting other developers' games, including such Nintendo platform releases as Edge and Swords & Soldiers.
Rive is expected to be showcased at Gamescom next month, so more info will likely trickle in then. In the meantime, check out the announcement trailer below.