Get ready for some serious Tetrimino action.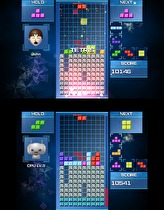 Tetris Ultimate will come to the 3DS this fall, Ubisoft announced this week.
The game will feature six modes of gameplay: Marathon, Endless, Ultra, Sprint, Battle, Battle Ultimate and Challenge. Special power-ups, like Let it Rain and Buzz Saw, will add an additional layer of chaos to Battle Ultimate mode. Leaderboards will also be updated to showcase top players around the world as well as your friends' best scores.
While Tetris Ultimate will be released on other systems this summer, the 3DS version will include an additional single-player Challenge mode exclusive to the device that will feature Mii avatars.