Both Wii U and 3DS owners will get to dig in.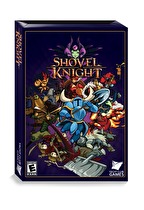 The retro-inspired, Kickstarter-funded title Shovel Knight has been finalized for a June 26 eShop release on both Wii U and 3DS, developer Yacht Club Games has announced.
This date only applies to the United States, Canada, and Mexico. Yacht Club says they've been "working through localization and ratings specific to the European region" and hope to have something to announce soon in that regard.
Shovel Knight was originally scheduled to come out March 31, but was delayed for various reasons. "We hit some snags along the way and we're sorry that we couldn't deliver it sooner," the developer noted in the Kickstarter update post, "but hopefully, it will prove more than worth the wait!"
Backers of the game may be interested to know that its box art and manual have been finalized, as well. Those who pledged at the relevant tiers can download the NES-inspired digital manual now, in fact. However, there is no firm date set for when $50+ backers can expect their copies of the physical box.
Yacht Club Games is set to attend E3, where they "may be revealing a cool thing or two" regarding Shovel Knight.