As Famitsu confirms a Japanese release date, more story and gameplay details about the next Zelda game are revealed.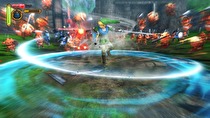 Hyrule Warriors, the Dynasty Warriors-style Zelda spinoff due out on August 14 in Japan, will feature multiple playable characters, including Link and Impa, in an original story focused on rescuing Zelda from the villainous witch Shia.
In Hyrule Warriors, Link is a soldier-in-training who is called into action when Shia kidnaps Zelda. He is paired up with the army captain Impa, who is just one of numerous playable characters. Others were shown off in screenshots, including a villain who might be related to the Ocarina of Time boss Volvagia.
For the most part, Hyrule Warriors appears to stay true to the Dynasty Warriors formula, with numerous upgradeable weapons and abilities that change each character. Z-targeting, a 3D Zelda staple, will work its way into the gameplay, however, and can be used to focus on specific enemies and weak points. Link's trademark spin attack will also factor into the combat. The Wii U GamePad will be used as an inventory menu in single-player, but in two-player co-op, one player can use the TV and the other can use the GamePad screen to play.
Hyrule Warriors is being developed by Omega Force, the studio responsible for most of the Warriors games, and Team Ninja, who last worked with Nintendo on Metroid: Other M. Eiji Aonuma, the Zelda series producer, is overseeing the project.
According to the developers, Hyrule Warriors is 70% complete and will be playable at E3 2014. The game is set for a summer release in North America and Europe, which means it should come before the end of September.